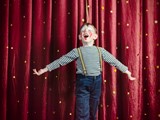 Ages 5-8
Teaching Kids to Sing
A lesson for a child looks different from a traditional lesson. Great care must be used to protect a voice that is still very much in the development stage. In addition, a child's natural love of music and the joy of singing must be nurtured and encouraged. This is best done through the use of songs that are fun to sing and just challenging enough to grow the voice and give the child a real sense of accomplishment. Toward that end, the child will be given an opportunity to perform in recitals.
At this age, the importance of parental involvement cannot be overstated. Although not required, I strongly recommend a parent be present at each lesson.
"Seeing an instructor who can teach children to sing without damaging their vocal cords is really the trick... he's obviously doing a wonderful job."
John Wilson, news anchor for Fox 13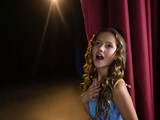 Ages 9-15
The Young Singer
At this level, the young singer is ready to explore the vast world of vocal music and discover all the joys and challenges of taking their voice to a higher level of singing, which includes intermediate technique and exposure to many different styles and genres of singing.
In addition to recitals, Talent Shows, Competitions and group singing are encouraged.
"Some of the younger students that he teaches are so good for their age, it's just remarkable to me how well they sing."
Jack Kilbride, Baritone with Opera Tampa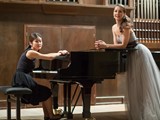 Ages 16+
High School & Adult
Individual lessons are highly specialized; content and form are based on the needs of the student. In each lesson students concentrate on the development of technique and musicianship through the study of vocalization: learning proper use of breath, placement, and, most importantly, repertoire appropriate to the level of each student.
At this level, coaching and advice are offered in college and career choice as well as instruction in audition preparation, performance technique, competition readiness and repertoire selection.
"As a result of his guidance, our daughter was able to secure a $30,000 annual scholarship from Stetson University. We are forever grateful. Any student fortunate enough to work with Blake Leopold will be blessed with an incredible teacher."
Lisa Tawil and Rick Brown, Parents